Heat stress can occur when workers are exposed to high temperatures on the job. Heat stress can affect anyone at any time, whether they work outdoor or indoor. The combination of physical exertion and high temperatures can bring on heat-related illness with little to no warning. Employers can prevent the onset of heat stress by knowing the causes of heat stress and know how to prevent it. This can be done by providing comfortable, refreshing airflow to large areas. The air movement makes perspiration more effective and efficient, helping the body to maintain a healthy temperature.
Employers must also ensure that workers are provided with appropriate personal protective equipment (PPE). Workers report that heat and moisture are two of the biggest contributors to discomfort. Also, heavy or non-breathable protective clothing and equipment increases the risk of heat-related illness in workers. Here are PPE characteristics that employers may focus on to assist their employees in reducing heat stress.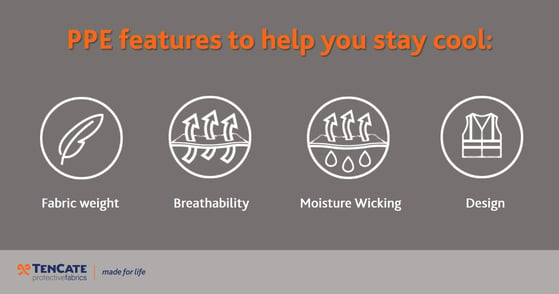 Weight.
Heavy clothing can increase a worker's heat load. There is a fabric that provides a high level of protection without adding extra weight. Selecting which weight of the fabric is suitable for your workers can help protect their heat stress.


Breathability.
Air permeability measures how easily air can pass through a material. Breathable clothing allows air to go through the garment, minimizing the rise of skin temperature and keeping the wearer cooler.



Moisture Wicking.


Moisture-wicking fabrics help keep the wearer's body dry when it starts to sweat and promotes evaporative cooling. Evaporative cooling is a process that naturally keeps their body temperature within a comfortable range during activity that may cause them to overheat. Using moisture-wicking fabrics during these kinds of activities is essential because moving moisture away from their skin is critical to staying cool.


Design.
Too fit garments can create high body temperature. Looser-fitting garments allow for more breathability and moisture release. Also, garment features like venting and gussets can help improve airflow.
Not only does heat stress mitigation improve worker health and safety but it can improve productivity as well. By reducing the distraction of physical discomfort workers can focus on the task at hand.
PPE plays a very important role in a person safety, productivity, and confidence. The fabric used for professional clothing should be comfortable, soft, offering air permeability, moisture control, and flexible to move, and must meet the requirement of PPE standards.