People who work outside or in a hot environment can easily become perspiring. Sweating during work can be a serious problem. It can cause you uncomfortable, embarrassing, debilitating, and emotionally devastating. Moisture-wicking fabrics can help keep them cool and comfortable even during the most intense jobs.
What is moisture-wicking?
Moisture-wicking fabric draws perspiration away from the skin and to the garment's surface, where it evaporates more quickly and easily. Moisture-wicking styles are ideal not only for athletes, but also for everyday wear because they keep wearers feeling cool and dry.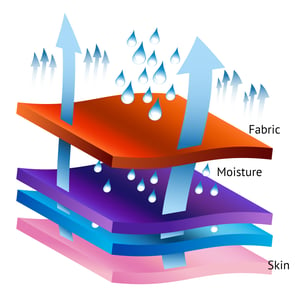 To better understand how moisture-wicking works, we will look at some of the properties of individual fibers. These fiber properties work together to create moisture wicking in the finished fabric.
Hydrophilic vs Hydrophobic
Hydrophilic fibers reject moisture pushing sweat back against the wearers' skin. Whereas Hydrophilic materials absorb moisture and lock it, resulting in a soggy fabric. This keeps body heat close to the skin.

Moisture-wicking is all about keeping water moving. Fabrics engineered with both Hydrophilic and Hydrophobic fibers help absorb and spread moisture through the fabric to maximize drying. Evaporative cooling happens while moisture is still in contact with the skin, which steals your body heat and lets it go into the atmosphere.

Why Choose Moisture-Wicking Fabric?
Moisture-wicking fabric helps wearers regulate their body heat, it helps the body stay dry when it starts to sweat during the day which provides comfort and healthy body temperature to wearers.
TenCate Protective Fabrics knows how hard it can be to keep workers' mind on the job when they are too hot or too sweaty to concentrate. That's why we have used over 90 years of technical textile science to engineering fabrics with Coolderm™ Technology, Fabrics with Coolderm™ Technology have a unique fiber blend that feature both Hydrophilic and Hydrophobic fibers; one that pulls in the moisture and one that pushes it away. So, when the moisture is absorbed by the fabric, it spreads out rapidly and dries faster. Faster drying time means less weight to carry and better comfort for the wearer. This continues to help cool the body and in fact wearers tend to experience a cooling effect, called the "evaporative cooling effect" which encompasses our Coolderm™ Technology, exclusive at TenCate Protective Fabrics.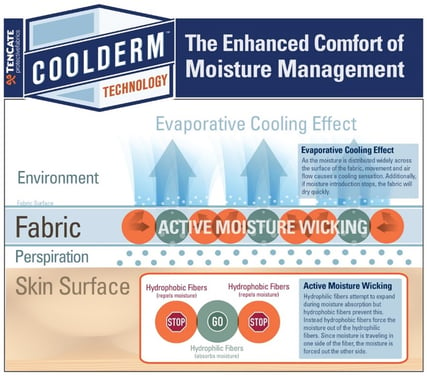 How to Care for Moisture-Wicking Clothing
Moisture-wicking fabrics can be washed in the washing machine. The most important thing is to avoid using fabric softener on these fabrics. Fabric softeners leave a waxy residue on the fabric's surface that interferes with its moisture-wicking abilities.
If you're looking for a flame-resistant fabric that's also moisture-wicking, please let us know by clicking here. We will get back to you as soon as possible.