Every day employees who work with electrical equipment encounter a high risk to get an incident by an arc flash. As a safety manager, to assist your employees in this critical electrical hazard, you must understand what an arc flash is, why it happens, and how to protect them.
An electric arc happens through an accidental short circuit. The duration of the arc is short, but the effects can be devastating. The electric arc acts as a powerful explosion, sending out a shockwave, molten metal, and high-intensity radiant heat. This combination of elements can cause a worker's clothing to ignite, melt instantly, or cause clothes to break open, resulting in severe skin burns.
Electric Arc-Flash Hazards is a source of possible injury or damage to health associated with the release of energy caused by an electric arc. The main hazards of personal injuries result from the pressure effect, forces on the body due to rapid heating-up of the arc surrounding gas. When it comes to the arc flash, it always comes with consequences and a lot of things happen from the explosion.
Risk Assessment – NFPA 70E, Standard for Electrical Safety in the Workplace, is a requirement for safe work practices to protect personnel by reducing exposure to major electrical hazards. NFPA 70E helps companies and employees avoid workplace injuries and fatalities due to shock, electrocution, arc flash, and arc blast. The core objective is practical, accomplishable electrical safety that results in the employee going home safe at the end of the day.
Arc Thermal Performance Value (ATPV) is the incident energy on a fabric that results in insufficient heat transfer through the fabric to cause the onset of a second-degree burn. ATPV indicates the level of protection provided by flame resistant clothing as measured in cal/cm². The fabric will usually not break open unless exposed to energy levels higher than the arc rating.
In the industry, they categorized the class of protection by ATPV. So, the higher ATPV, the more energy that fabric can protect the wearer from an electric arc.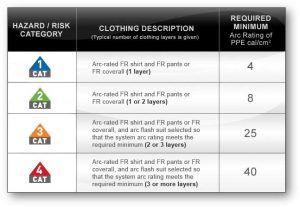 As a result, employees working in areas where there are potential electrical hazards must be provided with, and must use, electrical protective equipment that is appropriate for the specific parts of the body to be protected and for the work to be performed.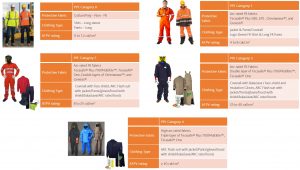 Source: