People who are working in petroleum, petrochemical and chemical industries, as well as manufacturing environments where combustible dust can accumulate, encounter every day a high risk to experience an incident by flash fire. As an HSE Manager, to assist your employees in this hazardous situation, you may need to understand what a flash fire is, and how to protect them.
What exactly is this type of thermal hazard?
The National Fire Protection Association (NFPA) defines flash fire as: "A fire that spreads by means of a flame front rapidly through a diffuse fuel, such as dust, gas, or the vapors of an ignitable liquid, without the production of damaging pressure" (source: NFPA 2112). Because the rapidly-moving flame front quickly consumes the diffuse fuel, flash fires are also very brief—typically 3 seconds or less in any single location.
How can you protect your employees from flash fire hazards?
Because the flash fire is over quickly, you can protect them from serious and tragic burn injures with a single layer of personal protective apparel – that is, by wearing flame-resistant clothing. FR clothing is important because most injuries and deaths are caused by non-FR (flammable) clothing. In the picture below, you can see there is no burn injury where the skin was exposed and significant burn injury where the flammable clothing was on their body. This happens because Non-FR clothing combusts and continues to burn against the body making it the primary cause of burn injury. FR clothing will not ignite and continue to burn when the flash fire is over. By not igniting and burning, FR clothing saves lives; it can dramatically reduce or eliminate burn injury because it insulates workers from the hazard.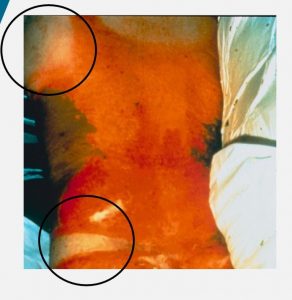 What standards control flash fire protection?
NFPA 2112 is a clothing standard for protection against industrial flash fire hazards. When evaluating flame-resistant clothing options, it is also important to ask for the data of the body burn test at 3 seconds.
Employees who wear flame-resistant clothing and wear it properly often walk away uninjured, returning to their home and family safe after a flash fire incident that would have otherwise been fatal. As a result, employees working in areas where there are potential hazards of flash fire must be provided with appropriate protective equipment. Occupational Safety and Health Administration (OSHA) clarified its stance in recent years that employers are required to provide and ensure proper maintenance of sufficient FR clothing matched to the hazard.