Durability, comfort, and protection are all important factors to consider when purchasing flame-resistant (FR) clothing. Modacrylic fibers are well-known for meeting all of these requirements. Because it is soft, strong, and resilient, this synthetic fiber is an excellent choice for protective clothing and technical FR fabrics. You will understand why Modacrylic fibers should be used in your PPE in the sections below.
Threading the Way with Modacrylic Fibers
In addition to modacrylics' high flame retardant threshold and high flame protection, they also have a low density, making them ideal for comfortable protective garments.
Because of their excellent solvent and chemical resistance, modacrylic fibers can be used at high proportions, providing increased strength to a wide range of products. Furthermore, the fibers are highly dispersible and thus suitable for use in a broad variety of products. Because of their comfortable and lightweight structure, their application can thus extend to outdoor activities and even home furnishings.
Modacrylic Fibers: How Do They Check All the Boxes?
Modacrylic fibers are inherently flame-resistant, which means they have intrinsic FR properties. They are frequently used in blends with other FR fibers such as lyocell, aramid, or polyamide-imide fibers, resulting in a durable fabric with increased comfort without sacrificing FR protection.
Durability and Resilience
Apart from its flame-resistant properties, modacrylic fiber has low abrasion resistance and tenacity, resulting in high durability comparable to wool. They also provide less heat conduction and ventilation. As a result, the fabrics made from Modacrylic fibers are soft, warm, and durable.
Adding to this, modacrylics also offer the following benefits:
Dimensionally stable
Strong and resilient
Can be dyed
Have good press and shape retention
They dry quickly
Modacrylic fibers are also non-allergenic, chemical and solvent resistant, and resistant to moths and mildew.
High Stability and Elastic Recovery
Modacrylic fabrics are soft, resilient, and highly durable. Unlike pure cotton garments, modacrylic fibers do not wrinkle. These fibers are dimensionally stable and have a high elastic recovery, which helps garments retain their shape.
Modacrylics excel in terms of appearance retention. Modacrylics retain their strength in concentrated alkaline and acidic environments, making them suitable for use in industrial filtration systems.
The Perfect Blend
Because of the lower microclimate humidity, modacrylic fibers have a better wear feel than most cotton-blended FR garments. The increased comfort is primarily due to the fiber's lightweight composition and the fact that it absorbs less moisture than natural fibers.
Increased comfort is a valuable benefit of blended FR fabrics, but it does not overshadow the protective benefits that blended fabrics provide.
Non-FR fibers such as cotton are protected in blended fabrics by the intrinsic flame-resistant properties of the modacrylic fiber. This protection of other fibers is what makes modacrylic such a valuable choice for garments.
Workers no longer have to sacrifice safety for comfort due to the durability and optimal protection of blended fabrics. Garments made with modacrylic fibers offer a balanced combination of comfort and flame resistance.
When you consider the versatility and durability of blended fabrics, it's easy to see why they're a popular choice for workers in a variety of industries, from oil and gas to manufacturing and utilities.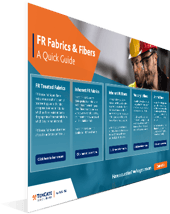 Why Should You Be Using Modacrylic Fabrics?
Modacrylic fibers are an affordable consideration in PPE garment selection due to their lightweight durability, inherent flame resistance, and blended FR fabric possibilities.
So, when looking for your next comfortable, flame-resistant PPE, make sure to take modacrylic fiber fabrics into account. Speak with our FR-fabric experts to learn more about the options available to you today.