Firefighting has always been a dangerous job. But changing environmental factors now pose different risks than what past firefighters faced. Today's firefighter can be called to a wide variety of emergency situations, and therefore needs a wider array of protective solutions to choose from to be prepared for whatever call may come.

At TenCate Protective Fabrics, we monitor the changing situations firefighters are encountering so that we can anticipate and meet the needs of today and tomorrow's firefighter. These are some of the risks we have noted as new and emerging, and how we see the industry adapting to meet these challenges.
New Risks
While electric vehicles provide a more environmentally friendly mode of transportation, they present some specific problems when fire enters the equation. Their lithium-ion batteries can make it especially difficult to extinguish an EV fire because they generate oxygen as they burn, fueling the fire. And the pollution and fumes generated by an electric vehicle fire are much different from a regular fire, raising questions around whether garments that have been exposed to those pollutants can be cleaned and reused, or if they need to be tossed out and replaced entirely.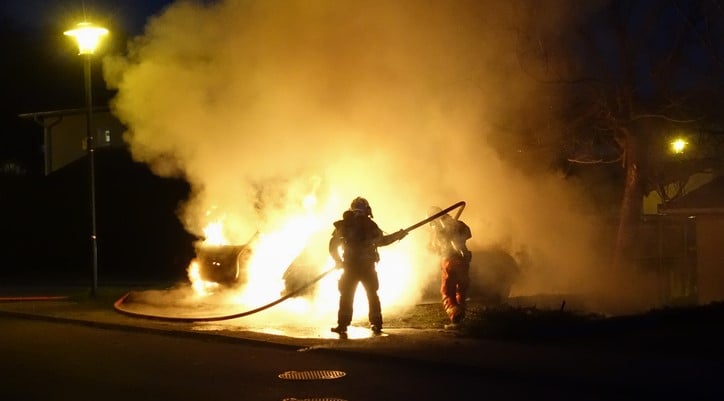 Beyond EVs, synthetic materials and plastics that give off toxic fumes when they burn have increased in usage in more and more applications, including in construction. Fires fueled by these materials are much more intense than in the past, and the impact of the smoke and pollution generated when they burn must be carefully considered when designing garments that can repel contamination and be properly cleaned and worn again.

Climate change is a big factor in how firefighting risks are shifting. We've written about how wildland fires have increased over the past few years, and various regions of the world are experiencing record heat in summers that are lasting longer. As average ambient temperatures rise, firefighters are at greater risk of heat stress, especially in wildfires and technical rescues.

In addition to rising temperatures, storms and floods are increasing in frequency, which call for their own consideration. Garments for technical rescue situations like these need to provide firefighters protection and comfort with water repellency, electrical arc flash rating, and resistance to mechanical influences like sharp edges that could cut through a garment.

New Solutions
Mitigating Heat Stress
To reduce the risk of heat stress, garment manufacturers have made huge strides in developing lighter-weight fabrics that are breathable and moisture-wicking. At TenCate Protective Fabrics, we developed our COOLDERM™ Technology to promote body temperature regulation, which is already available in several products on the market. And our PBI® Peak 5 product is a newer lightweight outer shell for firefighters that helps shed inner heat and is good for regions that experience hot summers.

Multiple Garments
Another way fire departments are adapting to meet new risks is by using a larger array of garment solutions, which are applied to different emergency response interventions. Instead of using heavy turnout gear for everything, more departments are building a repertoire of garment solutions, including wildland fire gear, which is lighter and better suited to fighting wildfires for long hours, and technical rescue gear, which has better water repellency and is rated for arc flash protection. By diversifying their gear arsenal, firefighters can wear more appropriate garments for each of the different types of calls they go out on and reduce their risk of heat stress and other injury.

Frequent Cleaning
Durability remains a key component of all firefighting gear, and with the increased exposure to toxic smoke, fumes, and debris, it's extra important to ensure that gear is properly cleaned after every use. For example, firefighters can find themselves cutting trees during storm responses, and the resulting wood particles can embed in a garment that would otherwise be flame-resistant; but now those tiny, flammable pieces of wood will negate the protective factor of the garment and put the firefighter at risk if it isn't properly laundered. The industry is turning to more robust solutions that last through necessary frequent washing, such as Nomex® Advance® Truecolor®, which protects firefighters from heat, flames, the elements, and toxic residues, and can be washed 40+ times and still look like new.

The risks faced by today's firefighters will continue to evolve.
As climate change fuels extreme weather events and synthetic materials continue to be used in buildings and products, the nature of fires and emergency response will continue to change. By staying attuned to emerging risks and developing innovative solutions for protective garments, we can help ensure the safety of our firefighters today and in the future.If you have any questions about what to consider in improving your firefighter PPE program, we are always available to discuss the solutions available to you and what's new in the field. Reach out to a TenCate Protective Fabrics fire service specialist today: