In any kind of emergency, you want to be certain you're wearing the appropriate gear when you get to the scene. But can the weather affect that choice? From regular summer downpours to more extreme events like hurricanes, firefighters get called out no matter what's on the weather report. If it seems like your station is frequently responding in the middle of storms, there are some additional considerations you can include in your garment choice to ensure your team can perform safely regardless of the elements.
Assessing Each Call
There are some limitations when it comes to choosing firefighting garments: if the call is for a structural fire, you're going to need to wear a structural suit. But if the call isn't for a structural fire, wearing turnout gear can be a hindrance rather than a help. Add torrential rain to the mix, and that heavy structural suit is about to get a whole lot heavier. So when a call comes in and a storm is raging, you want to make sure you're only in your structural suit if the situation calls for it.

When you're not going to a structural fire and rain is in the forecast, a single-layer multi-use garment like technical rescue gear will likely be a better option than a structural suit. You'll have a greater ability to move quickly and freely than you would in soaking wet turnout gear. And while structural gear does have a level of water repellency, if you're exposed to water for long enough, you will eventually be wet. This can even introduce new risk if you get wet and then enter a hot building—rather than insulating you from the heat like you might expect, the water that has leaked into your inner layer can turn into steam and cause severe burns.

Fabric factors
For firefighters who often find themselves responding to calls in the rain, there are a few protective fabric factors you can specifically focus on when choosing garments for your station:

- Water Repellency
- Moisture Wicking
- Arc Flash Rating

Water repellent finishes are typically required on structural gear but may not be required on other gear like wildlands, tech rescue, or stationwear. Ask your garment dealer, distributor, or manufacturer for options of gear in these categories made from fabrics that have a water repellent treatment. There are a few ways water repellency is achieved, so you'll want to consider how well a particular treatment will hold up to your station's demands. How well does it last through repeated laundering, for instance?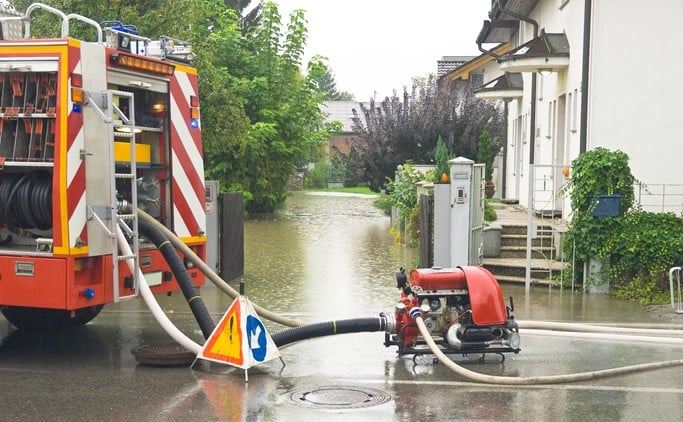 Different fabrics behave differently when wet. Think about how a cotton t-shirt sticks to your skin and gets heavy, soaking up and holding onto water like a sponge. You want to choose materials that dry quickly and don't hold too much moisture so that you're not water-logged while responding to a call in wet conditions. A water repellent treatment helps water bead off the surface of the garment, but then the construction of the fabric itself can add another layer of moisture management by absorbing less and drying fast. Generally, you'll want to choose fabrics made with synthetic fibers. For example, with our COOLDERM™ Technology, we create fabrics from strategically blended synthetic materials that offer enhanced moisture management with faster evaporation.

If electrical hazards are a concern, such as dealing with power lines or electric vehicle crashes, you can also ask your garment dealer about electric arc resistance. At TenCate Protective Fabrics, many of our products already undergo arc flash testing, so it wouldn't be out of the question to test a fire service fabric for the same resistance and see what level of protection you can get from various products.
The Right Protection When You Need It
With changing weather patterns and new environmental and technological risks, it's especially important to ensure your station has the proper protective equipment for the challenges your firefighters will face when responding to calls. If you have any questions about what to consider in improving your firefighter PPE program, we are always available to discuss the solutions available to you and what's new in the field. Reach out to a TenCate Protective Fabrics fire service specialist today: