What's more important: safety compliance or the comfort of your workers? Trick question! If people don't feel comfortable in their protective workwear, they're less likely to wear it safely — which in the steel and metal industry can lead to catastrophic accidents as a result. Here's how you can create and maintain a strong safety culture by bringing comfort back into the picture.
Dangerous work calls for comfortable workwear
Of all the industries requiring protective workwear, the steel and metal industry takes the cake when it comes to highly dangerous work environments. Imagine temperatures up to 1600°C, molten metal splash and exposure to highly flammable gasses, and you start to get a picture of the challenging context in which steel and metal workers operate on a daily basis.
With so many risks on the workfloor, it's understandable why steel and metal Health & Safety Managers tend to prioritize safety compliance above all else. But here's the secret: providing your workers with comfortable protective workwear is the ultimate key to reducing the number of workplace accidents. Comfort and compliance are inextricably linked.
Do your garments hit all 4 comfort essentials?
"Comfort" is a subjective concept that can be difficult to quantify, so let's break it down into 4 concrete attributes of comfortable protective workwear, specifically for the steel and metal industry.
Fabric choice
How dense is the fabric? The heavier it is, the more restriction to the wearer's movement and the more heat buildup inside their protective clothing. Traditional welder workwear can be so heavy and stiff that the garments literally stand up by themselves, but the new FR treated protective fabrics are more flexible. It can be complex but it is possible to find a better balance between protection and wearing comfort.
Moisture management
How much sweat does the fabric absorb? Steel and metal workers are exposed to extreme temperatures, so sweat is inevitable! If not absorbed and dispersed properly by the fabric, the residual moisture can cause steam burns or scalding inside a steel foundry worker's overall, for instance. Fiber type plays a huge role in providing the best moisture management, so choose a fiber with a high wicking capacity.
Breathability
How much heat does the fabric transmit away from the wearer's body? It's hard to carry out a physically demanding task like grinding while feeling stifled or clammy inside your protective workwear for hours on end. Choosing a less densely-woven fabric or one made from fibers that have better breathability properties, will lead to a more comfortable experience for your workers.
Softness
How does the fabric feel to the touch? The silkier the fibers, the cooler they feel on the skin. Smooth fabrics such as satin also have the added benefit of providing more protection against risks like molten metal splash or flammable dust and residue (that would otherwise stick to rougher fabrics like twill).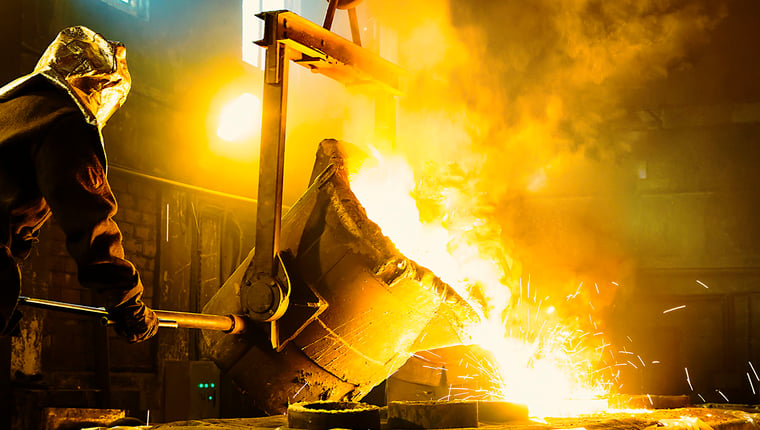 Comfort is a necessity, not a luxury
Field research shows that protective workwear is only as strong as its weakest link. When steel and metal garments are selected primarily with safety compliance in mind (without taking the comfort and subjective experience of the wearer into consideration), it's very likely that they won't be worn properly, or worse: certain elements may not be worn at all.
Let's zone in on just one of the potentially life-threatening risks that threaten steel and metal workers: exposure to flammable gases that might even lead to explosions. Imagine, for instance, that a worker hasn't closed his anti-static jacket completely. Without a fully-functioning jacket, they won't be protected against the explosive gases that can be released during steel production, or certain combustible metal and alloy powders that sometimes catch fire.
That's why consulting with workers to discover their preferences and ensure they're comfortable isn't an optional "extra", but a crucial part of every protective workwear selection process.
Bring comfort back into the picture
It's clear that comfortable metal and steel workwear greatly reduces the number of workplace accidents and saves lives. Fabric choice, moisture management, breathability and softness directly impact the wearer's comfort levels, and therefore directly impact your safety culture as well.