The textile industry is one of the major polluting industries in the world. It is our job, as part of the workwear value chain, to minimize environmental pollution and create good social conditions for all parties involved. We have visualized our view on this matter in what we have called "The Cycle of Care". The essence of the Cycle of Care is that we have a joint responsibility throughout the complete workwear value chain to find the best solutions for a sustainable way of providing workwear to the market. In this blog, we will further explain what we mean by Cycle of Care and what we think is the right approach to substantiate "green" claims.
The cycle of care: from sourcing to recycling
The Cycle of Care handles the process from raw material to recycled end product. Needless to say, each party in this workwear value chain has environmental responsibilities in this process.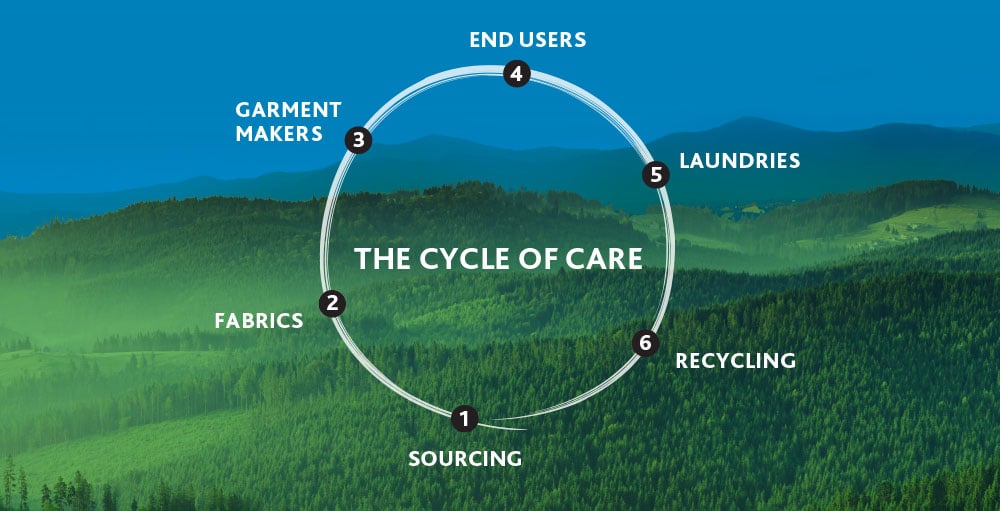 The chain starts with the sourcing of (raw) materials, where recycled polyester is being introduced as a way to reduce energy consumption, and lyocell as a way to reduce water usage - lyocell is produced in a closed-loop process that transforms wood pulp into bio-cellulose fibers, where more than 99% of the solvent is recovered and reused. The second step is to select a high-performing sustainable fabric that offers the ultimate wearing experience (in terms of moisture management, softness, and comfort) and long-lasting looks. Recycled polyester, for instance, maintains high mechanical performance and a deep dye intake for excellent color retention.

The third step is to produce a high-quality garment: this is where the garment manufacturer comes into play. The garment maker can take responsibility by minimizing the use of the material as much as possible and selecting sustainable yarns, zippers, and striping. They can also look at the packaging of their material by minimizing the use of plastic.
Next in line is the end user. He should also be aware of his responsibility to lower the environmental impact and contribute to a better world. Not only the environmental and social aspect matters: end users can work on their overall corporate image, and invest in the well-being of their employees by using sustainable fabrics in their workwear.
The last party in the workwear value chain that we need to take into account is industrial laundries. They have an important impact on the process, as the washing and drying process has quite an environmental impact. Fabric suppliers can help industrial laundries by developing sustainable fabrics that are designed for energy-efficient laundering.
But how do you know if your fabrics are truly sustainable or not? And to what degree? The best way for you to surface this is to ask for the fabrics' Environmental Product Declaration.
Trust and transparency: environmental product declaration (EPD®)
All of the partners in the workwear value chain should aim for high-quality and comfortable workwear with the smallest environmental footprint possible. These "green" claims need to be substantiated. That is where the EPD® comes in. This EPD® makes the environmental impact throughout the manufacturing chain more transparent.
The document is a type III declaration compliant with ISO 14025 and provides relevant, verified, and comparable information about the life cycle environmental impact of products. It includes, for example, the impacts associated with the production, such as raw material acquisition, energy use, and efficiency, the content of materials and chemical substances, emissions to air, soil, and water, and waste generation.

TenCate Protective Fabrics is the first European workwear fabric supplier to provide involved parties with an EPD® for Tecawork® Ecogreen, and Tecasafe® Ecogreen. This range of more sustainable fabrics originated with mechanically recycled polyester fibers made of PET bottles mixed with lyocell fibers made of sustainably sourced wood.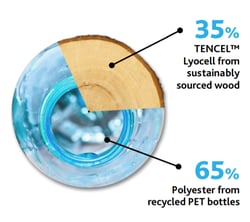 At TenCate Protective Fabrics, developing long-lasting sustainable solutions is part of our mission. It is our way to support end users making that sustainable choice, to positively influence the textile industry, to work together in the workwear value chain, and to be transparent and valuable partners to garment makers and industrial laundries. With our sustainable fabrics, we want to make that difference to the planet we call home.